IEEE-USA Supports The Big Hoopla as a Silver Sponsor
For the second consecutive Year, with volunteer support from the IEEE Dayton Section, IEEE-USA is sponsoring The Big Hoopla, a set of events opening the "First Four" as part of the NCAA's Men's Basketball Tournament 12-15 March in Dayton, Ohio.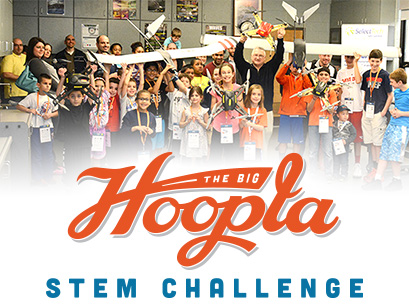 The Big Hoopla STEM Challenge – Sunday, 12 March 2023
The Big Hoopla STEM Challenge is a free family event for kids (K-8) that ties together the excitement of college basketball and the power of STEM education. IEEE-USA and other regional and national partners will be on hand to engage kids with hands-on STEM activities. Learn More
The Big Hoopla Ticket Program
As a Silver Sponsor, IEEE-USA was proud to support a one-of-a-kind experience — NCAA Tournament tickets, free-of-charge — to those who truly deserve it, including our military service people, their families, and local students. IEEE-USA's sponsorship also made possible the donation of 80 NCAA First Four game tickets for Military active-duty servicemen and their families at Wright Patterson Air Force Base.
The Big Hoopla 2022
IEEE-USA was a silver sponsor of the Big Hoopla STEM Challenge on Sunday, 13 March 2022. An estimated 3,000 parents and children attended, many of whom visited IEEE-USA's booth to engage in STEM activities and learn more about technology careers. More than 15 IEEE volunteers participated from the Dayton area (including the University of Dayton Student Section), Cincinnati and even Columbus.
The event, which is The Big Hoopla's anchor event, tied together the excitement and passion for college basketball to the power of STEM education. Regional and national partners, including IEEE-USA, were on-site to engage students with hands-on science, technology, engineering and math demonstrations.
Here are some pictures from the 2022 events.