Presenter: Bobby Rushing, Jr.
Overview
IEEE-USA Livestream Tutorial / Q&A
This webinar will cover the basic facts about patents. We will explore the different types of patents, including utility, design, and plant. We will define the difference and use of both provisional patent applications and non-provisional patent applications. Further, we will discuss the process of patent prosecution, the role of the U.S. patent examiner and what to expect when working with the USPTO. Information regarding a number of patent prosecution programs and initiatives available to applicants will also be provided.
About the Presenter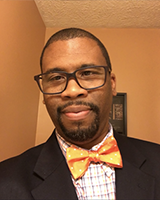 Bobby Rushing, Jr. is a Primary Examiner in 3600, examining cases involving gearing, transmissions and robot arm and joints.  While at the USPTO, Bobby has immersed himself in community service, reaching out to elementary school students with RESET (Raising Excitement for Science, Engineering and Technology) and Kids & Chemistry and college, engineering students with NSBE (National Society of Black Engineers).
Mr. Rushing now serves as a Special Advisor with the Eastern Regional Outreach Office and will be leveraging his knowledge and experience within the innovation ecosystem.
Earn PDH Credits
U.S. IEEE members who have participated in an IEEE-USA Webinar can earn professional development hours (PDHs) from IEEE's Educational Activities Department by clicking here to request a certificate.*
*Please allow 7-10 days to receive a certificate.