Presenter: Robin Hylton
Overview
IEEE-USA Livestream Tutorial / Q&A
The USPTO has a wealth of resources for individuals interested in learning more about protecting their intellectual property and who need assistance doing so. Learn about these various resources, many of which are free, and put them to work for you as you begin or continue down your path of innovation.
About the Presenter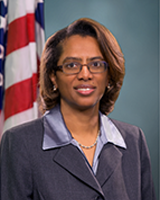 Robin A. Hylton received her Bachelor of Science degree in Civil Engineering from Virginia Polytechnic Institute and State University (VA Tech). Ms. Hylton worked for a civil engineering firm prior to joining the USPTO in September 1994. She examined patent applications in the container closure and flexible bag arts. She joined the International Patent Legal Administration in 2014 as a Special Program Examiner (SPRE).  As a SPRE, Ms. Hylton provides training to examiners, paralegals, and pro-se applicants regarding international applications filed under the Patent Cooperation Treaty (PCT) and U.S. National phase applications filed under 35 U.S.C. 371, answers calls from IP professionals and Pro-se applicants via the PCT helpdesk, and other special projects.
Currently, Ms. Hylton is serving as an Assistant Outreach Coordinator for the Eastern Regional Outreach Office leveraging her expertise in community service and outreach to support the strategic plans and goals of the agency with regard to stakeholder engagement.
Earn PDH Credits
U.S. IEEE members who have participated in an IEEE-USA Webinar can earn professional development hours (PDHs) from IEEE's Educational Activities Department by clicking here to request a certificate.*
*Please allow 7-10 days to receive a certificate.